What Sparks Poetry is a serialized feature that explores experiences and ideas that spark the writing of new poems.
In Ecopoetry Now, invited poets engage in an ecopoetic conversation across borders. In poems and poetics statements, their work describes important local differences, including bioregion and language, as well as a shared concern for the Earth. We hope to highlight poetry's integral role in creating and sustaining a broadly ecological imagination that is most alive when biologically, culturally, and linguistically diverse.
"Explore What Sparks Poetry" is made possible with funding from The Virginia Commission for the Arts.
From my seat alongside Rattlesnake Creek, I looked upstream toward the high-elevation wilderness snowfields that framed and fed the floodplain. The water at my feet had once resided there, and before that it existed as moisture trapped inside a cloud, and perhaps before that as fog, the slough's breath, the valley's exhalation, ad infinitum. This was doubtless rudimentary elemental positing, but the mere proximity to moving water had at least succeeded in getting me "out of my head."
This thing I'm calling "terroir" is touched by climate, which continues to change. And change touches us all, but unevenly, some sooner and some later, some more and some less.

You don't have to do anything extra though. Language comes in and it leaves. I/we pass it around like particles, small poetry aerosols, floating across the air, written through a bodily process. There is no other public, there is only what happens between us.
"Landscape with Jeffers and the Connecticut River" returns to a meadow I've known as long as I can remember. My father grew up across the street, and my maternal grandparents lived just a mile or two up Jail Hill. Luckily, a bit of the meadow has been set aside as parkland, so the field where as a child I flew my kite and pretended to fish is still open meadow. Often, in dreams, I find myself wading through its high grass and goldenrod or walking out into the wide green river. I, all my various I's, am here.
An obsession with silence and space, generative rupture, "lavish absence"—this is one of the ways inherited trauma has shaped my life in ways beyond my control. But these silences and gaps are also essential elements of the creative process. I see these forceful voids as doubled zeros. I see them facing each other like eyes.
Poetry can dive beneath narratives and their erasures. In this poem "For love," I wanted to look at the complexities and contradictions of the humans who devote their lives to weapons of mass destruction. What drives them? One aspect, the poem suggests, is fear, a fear-tinged love, an anticipatory or active grief about what could be lost, which comes out of their strong love. Maybe a poem can bring these motivations into the light so that they can be examined. What if fear could be felt and known as the vulnerable emotion that it is, what kinds of knowledge and action might that produce? Maybe the existence of fear would not have to lead to weapons.
Or the fact that wind in the outback is never a "broken hinge," not a "crying out," and how violence can be an act of kindness. The raw power of image…. Words came later, by accident in a silent room at a desk. But back there, one afternoon in that desolate expanse my husband and I and a stranger, the three of us came together over that creature stricken by a fellow human we desperately wanted to disown, a driver hot to desecrate the planet.
"The Telling" took about a month of writing and rewriting, sometimes just making tiny adjustments, sometimes refiguring images, sometimes recalibrating the syntax. I don't want it to "look" like a melting glacier, but I do want it to suggest some of the processes of diminishment, elision, loss, also endurance, and the massive circular sense of the cyclic nature of things.
"Rainbow" performs a demonstration of Soffici's manifesto for renewal, both urging the artist to wake up, revive, and take their place at the center of things, like a wizard or an alchemist, and doing so himself with the poem. Poets, like painters, he shows us, would need new techniques to respond to this radically new century. But rather than the aggressive techniques the Futurists advocated—the violent imagery and bombastic declarations designed to wrench Italy into the new century by force—Soffici chose color and expressive typography to reproduce the vibrancy, disorientation, and sensory overload of early twentieth-century life.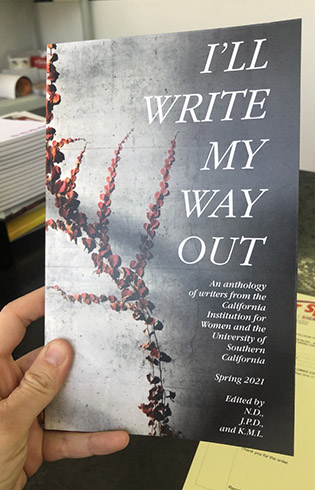 Sometimes when people ask me what it's like teaching inside and I tell those people that a classroom is a classroom is a classroom, they follow up, 'yeah, but are they any good?' I get incredulous. Angry. I ask, why wouldn't they be? Anywhere there are people beautiful art is being made. Why not prison? Poetry perhaps makes some of its most sense in prison – because people through poetry can take back at least a little bit of what's been taken from them. But I understand the question, where it comes from. Poetry in prison is a bobcat traipsing across asphalt. When we build homes against nature, nature doesn't go away. And when we cage people, despite the state's best effort, people do not become anything less than people. Art doesn't go away. I know I live in the city, but I know what came before the city, that it somehow still thrives here despite our best efforts to destroy it.
The plan was Sébastien's, inspired tangentially by the so-called "torture test" that Olivier Cadiot and Pierre Alferi had devised, which involved translating Robert Duncan's falconer-mother back and forth between English and French, so the original would bloom anew through its successive degradations. We posted a slide of a single poem from chapter 2, "the cow," showing the French on the left, my provisional American English at right.
The project is democratic yet elite, in a combination I value. It is patriotic, demonstrating something admirable in American life, based on the dignity of individuals and the presence of art: not a program of the academic realm, and not a product of the entertainment industry. No professors explaining the poems and no actors performing them: just readers.
Though Šalamun would leave the interview format behind, he continued to ask many questions in his work, sometimes building poems upon a series of questions, as in the poem featured here. Although the title, "Sutra," implies the imparting of wisdom or knowledge, Šalamun was more interested in the interplay between the questions and answers than in satisfying the expectations of a conventional sutra.
Bea has been described as "a poet of silence, of everything unsaid which is suggested through language," and translating these poems opened my eyes to the immense possibilities of brevity, inspiring me to begin a book-length project in small bursts. How Dark My Skin Is Left by Her Shadow taught me the strength of distillation, how intensity rises, and pressure builds when a substance is compressed.
What triggers one to translate is ultimately the same as what triggers one to write;
I would say translating is an act of reading a poem for the first time, twice.
What the world is to the poet, the original text must seem to the translator, herein the hope, & the despair.
The Dragonfly, an early work of Rosselli's (1958) is a unique text of reverberating adaptions and deformations that harbingers our contemporary embrace of writing as rewriting and also correctly intuits in the Rimbaud assemblage the great solitude that so often visited this great poet.
Our tactic for depicting the memories in Yam Gong's poem is found in a good deal of English verse, and has been called "the tense of timelessness" or "lyric tense." Emily Dickinson provides a good example: "I see thee better—in the dark—." But Yam Gong's speaker does not remain in an idealized state of timelessness: he returns to the present ("don't look in the mirror much anymore"), and the last lines imply that he's learned something from life, perhaps something unwelcome.